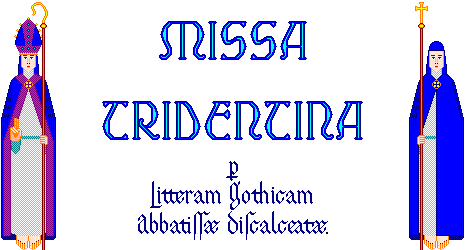 THE TRIDENTINE MASS
This is an English Language cover page. The missatri.htm address contains no HTML text whatever, but only orders a series of 41 GIF files, each measuring 465x1160, which were originally created as the 40 separate pages and final endpaper of a book presenting the entirety of the Old Latin Mass along with the hymns and prayers associated with Benediction and the Canticles of the Hours in traditional Gothic Text. These images have individual file sizes ranging between 26k and 67k, and when added form a 1.7m document, so unless you have a very stable, high speed internet connexion, it is recommended that you not use this missatri.htm option, but rather view them individually by using the links provided on the list below.
The kalligraphy is under copyright, but permission is granted for any printing which is intended only for private devotional use. The pages are intended for printing on 8½"x14" legal paper using a "Rescale to fit page" option. A real copy of the book, hand bound in cloth, may be order'd by arrangement through private e-mail to bhthom@bhthom.org The cost would depend upond binding options.
Two alternative series of pages with decorative borders intended for printing on 8½"x14" letter size paper is also available here: mistxtpp.htm and mistxtgs.htm
The individual page images can be call'd into view as follows:
missat01.gif title page
missat02.gif dedication Page with frontals and prefaces
missat03.gif Asperges me,... Vidi aquam...
missat04.gif Exaudi nos,... Iudica me Deus,...
missat05.gif Confitebor tibi in kithara,...
missat06.gif Confiteor Deo omnipotenti,...
missat07.gif Aufer a nobis,... Oramus te,... Kyrie eleison.... Golria in excelsis Deo,...
missat08.gif Munda cor meum,...
missat09.gif Credo in unum Deum,...
missat10.gif Suscipe sancte Pater,... Deus, qui humanæ substantiæ,...Offerimus tibi Domine,...
missat11.gif In spiritu humilitatis,... Veni sanctificator... Per intercessionem... Incensum istud... Dirigatur Domine,... Ascendat in nobis
missat12.gif Lavabo inter innocentes manus meas,...
missat13.gif Suscipe sancte Trinitas... Orate fratres,...
missat14.gif Sursum corda. frontals and prefaces
missat15.gif frontals and prefaces
missat16.gif frontals and prefaces Sanctus, Sanctus, Sanctus
missat17.gif Te igitur clementissime Pater...
missat18.gif Memento Domine,... Communicantes et memoriam venerantes,...
missat19.gif Hanc igitur... Quam oblationem... Qui Pridie... Simul modo...
missat20.gif Unde et memores,... Supplices te rogamus... Memento etiam Domine,...Ipsis,Domine,...
missat21.gif Nobis quoque pecatoribus... Per quem hæc omnia,... Pater noster,...
missat22.gif Libera nos,... Hæc commixtio... Agnus Dei,... Domine Iesu Christe,...
missat23.gif Domine Iesu Christe,... Perceptio Corporis tui... Domine non sum dignus... Corpus Domini nostri... Quid retribuam Domino... Sanguis Domini Nostri...
missat24.gif Ecce Agnus Dei,... Domine non sum dignus... Corpus Domini nostri... Quod ore sumpsimus,... Corpus tuum, Domine,... Placeat tibi sancta Trinitas,... Benidacat vos omnipotens Deus,...
missat25.gif In principio erat Verbum,...
missat26.gif Ave maris stella,... LITANIÆ LAVRITANÆ
missat27.gif Ave Maria,... Salve regina,... Deus refugium...
missat28.gif Sancte Michæl Archangele,... O Salutaris Hostia... Tantum ergo Sacramentum
missat29.gif Laudes Diuinæ . Laudate Dominum omnes gentes:


missat30.gif Pater noster,... Angelus Domini nuntiauit Mariæ
missat31.gif Regina Cæli,... Credo in Deum,...
missat32.gif Venite exultemus Domino:
missat33.gif Te Deum laudamus,...
missat34.gif Benedicite omnia opera Domini Domino:
missat35.gif Benedicite kete,...
missat36.gif Benedictus Dominus Deus Isræl,...
missat37.gif Nox præcessit,... Pater Noster...
missat38.gif De Profundis... Miserere mei Deus:...
missat39.gif Misit Deus... Per signum Crucis...
missat40.gif Magnificat anima mea Dominum,... Nunc dimittis...
-- endpaper --
missatff.gif Ecce nunc... Te lucus ante terminum... Tu autem...

---
Please also visit www.christianity-links.com for other Christian links.
---